Füllung
English version here
2011-2013
10" Touch Screen Tablet, Selbstentwickelte App | 32 Stillbilder, DiBondplatten 24×36 cm
Interaktive Sound-/Foto-Installation
Die Installation besteht aus 32 Videostills und 32 Audio-Spuren. Jede Audio-Spur auf dem Touch Screen ist mit einem Videostill verbunden. Der Touch Screen als Audio-Archiv enthält Interviews, Gedichte mit den drei Teilnehmern und den Sound der Orte selbst. Aber gibt es einen Ort "für sich selbst"?
Für das Projekt "Orte, die man kennen sollte" waren wir als Teilnehmer aufgefordert, Orte der NS-Vergangenheit in Leipzig für ein Buch zu dokumentieren. Ein Buch, das von der Stadt Leipzig initiiert war. Anstatt dokumentarische Bilder zu machen, filmte ich drei Fotografen während ihrer Exkursionen zu Gedenkstätten. Die Produktion der dokumentarischen Fotos, deren gewisse künstlerische Qualität und Subjektivität interessierte mich. Es geht um die Perspektive der ersten Person, in der Welt zu sein. Gleichzeitig geht es um meine Beobachtung der Beobachtung.
Die Videostills in der Installation stammen aus dem gefilmten Material, das ich während dieser Exkursionen aufgenommen habe: Kleingartenanlage Johannistal, Denkmal für die Opfer des Massakers Abtnaundorf, Mittelschule und Zwick'sche Siedlung und Mitteldeutsche Motorenwerke (MIMO) in Taucha. In Kombination mit den Audiospuren haben sie eine phänomenologische Ästhetik.
Wie geht man mit einer Gedenkstätte um? Welche Materialen findet man dort? Wie kann man den Ort finden? Wer erinnert an wen? Für mich fängt ethische Verantwortung beim Individuum selbst an. Bewusst oder unbewusst trifft man als Künstler politische Entscheidungen und der direkte Bezug ist die Ästhetik und was für Werte sie enthält.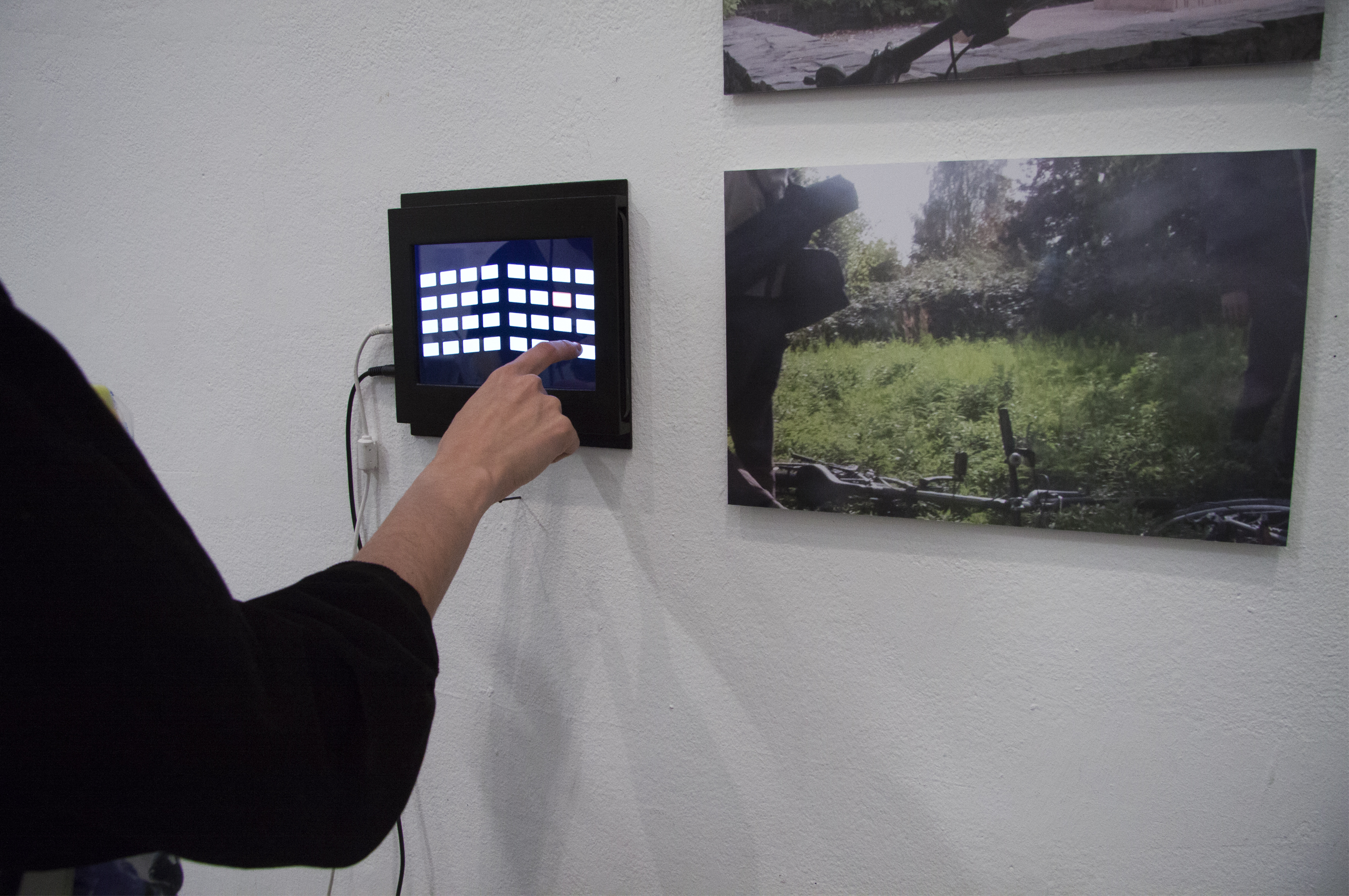 Während der Jubiläumsfeiern in Leipzig 2013 für Richard Wagner sollte Deborah Jeromins Kunstwerk, das die Form eines Bauschildes hat, am Richard Wagner Hain ausgestellt werden. Es wurde vorher mehrmals über die Jubiläumsfeierlichkeiten bei den Orte-Treffen der Gruppe gesprochen.
In einem Interview mit mir sagte Deborah, dass ihr Kunstwerk im besten Fall eine Fragestellung provozieren könnte und im schlimmsten Fall eine Reproduktion des Hains. Dieser sollte zur NS-Zeit zu einem nationalen Denkmal werden, Wagner war eine kulturelle Symbolfigur im NS. Wenn man nach dem Zweiten Weltkrieg diese Symbolfigur, die Werte, die dieses Konstrukt enthält, feiert, wird Wagners 200. Geburtstag seine Wiedergeburt als unpolitischer Künstler sein.
Deborah Jeromins Bauschild durfte nicht im Richard Wagner Hain ausgestellt werden. Die Stadt Leipzig hatte es verboten. Als Begründung wurde angegeben, dass das Bauschild "für Ratlosigkeit beim Betrachter" sorgen würde. In einer autoritären Email erklärte die Stadt Leipzig, dass die Wirkung des Kunstwerks nicht wünschenswert sei, "…Provokation hin, Intervention her… ", und empfahl der Künstlerin, "eine andere Form zu finden, die mit dem Ort vertraut macht". Deborah traf daraufhin die Entscheidung, ihr Kunstwerk mobil zu machen.
Wer regiert heute den öffentlichen Raum in Leipzig? Der öffentlichen Raum wird durch die politischen Parteien, die Stadtregierung und Verwaltung und durch die wirtschaftliche Macht geregelt. Der Informationsstrom der Massenmedien, die Unterhaltungsindustrie sowie die Werbung nehmen viel Platz ein. Zeitgenössische Kunst hat einen begrenzten Platz. Im Rahmen der freien Kunst im öffentlichen Raum als Akteur selbstbestimmt handeln zu können, ist etwas, das man schützen muss!
Nach der Eröffnung der Orte-Ausstellung trieb mich ein Gefühl der Leere um. Ich fand es absurd, in diesem Verbots-Kontext an einer Ausstellung über die NS-Vergangenheit in Leipzig teilzunehmen. Wie kann es sein, dass gerade im Zusammenhang einer solchen Ausstellung ein Kunstverbot ausgesprochen wird? Für wen haben wir die Ausstellung gemacht? Aus dieser Dissonanz entstand eine neue Präferenz: die aktive Wahl, mein Kunstwerk von der Ausstellung aus Protest zurückzuziehen. Ich verstand langsam, dass die Arbeit von Deborah wegen ihrer Souveränität verboten wurde.
Melody Panosian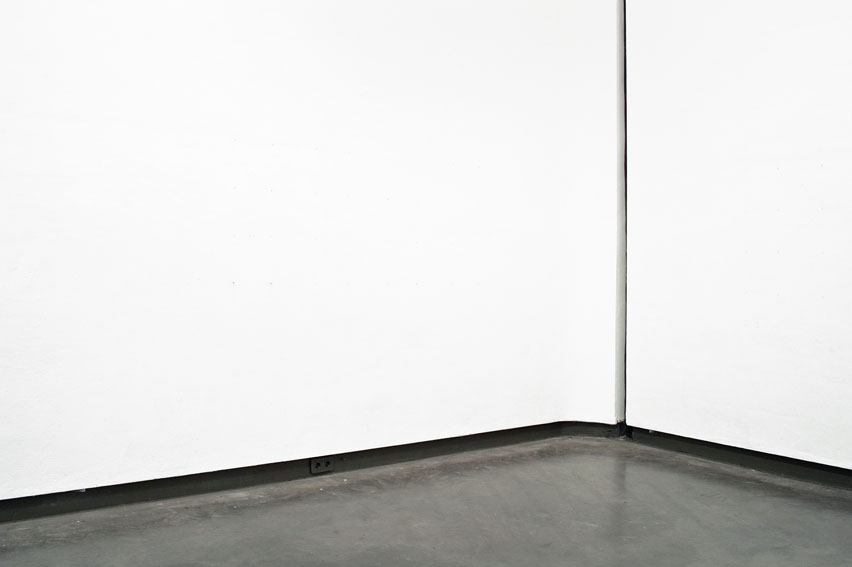 English version
2011-2013
10" Touch Screen Tablet, Self developed App | 32 Still Images, DiBond Panels 24×36 cm
Interactive Sound-/Photo-Installation
The Installation consists of 32 video stills and 32 audio tracks. Each audio track on the touch screen is linked to a video still. The touch screen functions as an audio archive, consists of interviews, poems with the three participants and sound from the place itself. But is there a place "for itself"?
For the project "Orte, die man kennen sollte" we where, as participants asked to document places of the NS-past in Leipzig for a book. A book, which was initiated by the City of Leipzig. Instead of making the documentary photos, I filmed three photographers during their field trips to memorial sites. The production of the documentary photo itself, the particular artistic quality and its subjectivity interested me. It is a question of the first-person perspective, being in the world. At the same time it is about my observation of the observation. The video stills in the installation originate from the filmed material, which I recorded during these field trips: Kleingartenanlage Johannistal, Denkmal für die Opfer des Massakers Abtnaundorf, Mittelschule and Zwick'sche Siedlung and Mitteldeutsche Motorenwerke (MIMO) in Taucha. In combination with the audio tracks they have a phenomenological aesthetic.
How does one relate to a memorial site? What materials does one find there? How can one reach the memorial? Who remembers on whom? For me the ethical responsibility starts with the individual. Weather conscious or unconscious, we as artists, make decisions that are political and the direct reference is the aesthetic and what values it entails.
During the anniversary celebration for Richard Wagner in Leipzig 2013 Deborah Jeromin´s art work, in the form of a construction sign, should have been exhibited at the Richard Wagner Wagner Hain. It had been spoken about the anniversary celebration in the group on several occasions during the Orte-meetings.
In an interview with me Deborah said that her art work would pose a question in the best case and in the worst case, a reproduction of the Hain. This should have been a national monument during the NS-time. Wagner was a cultural symbolic figure during NS. When one celebrates this after the second world war, this symbolic figure, the values this construct entails, the Wagner 200. birthday becomes his rebirth as non-political artist.
Deborah Jeromins Construction sign was not allowed to be exhibited. The City of Leipzig forbid it. On grounds, that the construction sign would provide "perplexity for the viewer ". In an authoritative e-mail the City of Leipzig explained, that the effect of the art work was not desirable, "…provocation hither, intervention thither… ", and advised the artist to, " find another form that confides with the place". Deborah consequently made the decision to make her art work mobile.
Who rules the public space in Leipzig? The public space is governed through the political parties, the city government and the state government and through the corporate power. The information stream from mass medias, the entertainment industry as well as the advertisement take a lot of space. Contemporary art only has a limited space. In the frame of fine arts in the public space being able to act autonomously as an agent, is something, that one has to protect!
After the opening at the Orte-exhibition I was confronted with a hollow feeling. I found it absurd, to participate in a exhibition about the NS-past in Leipzig in this prohibition-context. How can it be, that especially in the context of such a one exhibition an art prohibition would manifest. For whom did we make the exhibition? In this dissonance a new preference came to being: the active choice, to withdraw my art work from the exhibition out of protest. I slowly understood, that the work of Deborah was forbidden because of its sovereignty.
Melody Panosian