In April 2010 I was in Addis Ababa, Ethiopia for a one month Ethiopian traditional dances workshop at Adugna Dance Theatre Company. Adugna was also the only contemporary dance company in Ethiopia.
In Ethiopia, there are 84 Ethiopian dances and I practiced 4 of them; Wello, Guragigna, Tigrigna and Wolaita. The dances come from different tribes in different regions in Ethiopia. These tribes differ in traditions, religion etc.
Wello – a dance from Wello tribe in the northern Ethiopia.
Guragigna – southern Ethiopia.
Tigrigna – north / middle Ethiopia. Tigrigna is the most popular dance and music form in Ethiopia, since the governement is Tigrignan now.
Wolaita – southern Ethiopia.
There is a saying that in the north you dance more with your head and the further south you go the more south in the body; moving from the head, shoulders, chest, back, hips, knees to feet.
The dances are summarised under the name Wuzuwaze and more shoulder emphasized dances go under the name Eskesta. In all Ethiopian dances there is a integration of rhythm/movements and improvisation is enabled because every body does the dance differently. The dances are performed in groups or in pairs and as rituals, they serve a narration.
I was taught these 4 Ethiopian traditional dances by 2 teachers. I also attended morning classes in contemporary dance with the Adugna Dance Theatre Company and gave a workshop in choreography / group improvisation for Adugna Dance Theatre Company. In addition, I taught contemporary dance to the children that study Ethiopian traditional dances at the Ethiopian National Theatre.
Addis Ababa is a green city that looks like a roller coaster. Holes spontaneously emerge in the asphalt.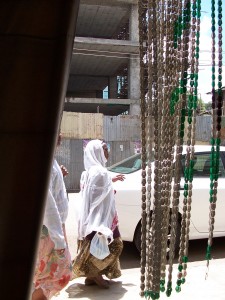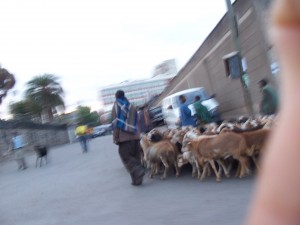 When I first arrived in Addis it was full Easter celebrations. Many women had solemn white
linen dresses and scarves and the streets where swarming with goats and chickens. As soon as the Easter weekend and the 55-day fasting was over there was no honking and bleating in the night and the only sound left was the dogs howling.
Private classes in Etiopian traditional dances
My first teacher in Ethiopian traditional dances was Shiferaw Tariku. These private classes where relatively formal, when in fact these are social dances. The music, signals "transition movements" and "dance movements".
As some dance moves require a partner, Shiferaw danced with me. My sceleton and my joints needed alot of practice to adapt to the shoulder movements. Shiferaws goal was to teach these four dances beacuse of their distinguished rythms.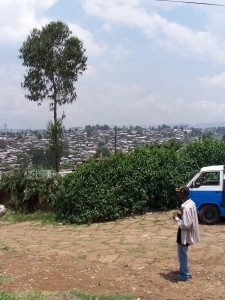 My second teacher in Ethiopian traditional dances was Temesgen.
Temesgen is famous in Etioipien for be a very good traditional dancer. He teaches the traditional
Ethiopian dances to 4 year old children to 20 year old teenagers. There are a total of 40 children that dance with Temesgen. They practice at the Ethiopian National Theatre where they dance on the stone floor.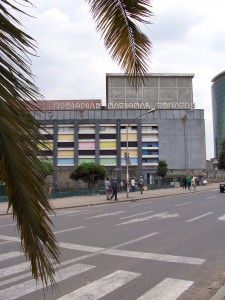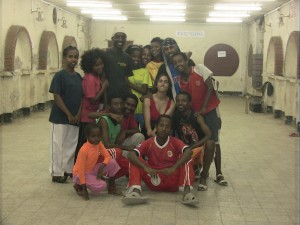 The first time I visited Temesgens students in Ethiopian National Theatre they asked me to give some classes in contemporary / modern dance two times a week. I tought them an old solo dance phrase, titled Isis. We made a group composition of the solo. I tought them dance composition and in the end we did an improvisation out of Isis movement material.
Temesgen is very religious, starting the class, they all join hands in a circle and pray together. Temesgen had never tought a foreigner traditional Ethiopian dances, prior to me . To see Temesgen dance was like seeing embodied music. He sings constantly while dancing. Temesgen always asked me, "You feeling it?". According to him, feeling the music, rythm was core.
I recognized movements from the experience I have from break dance.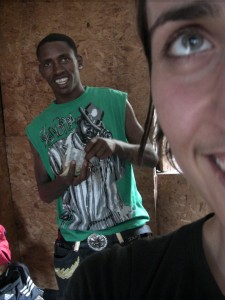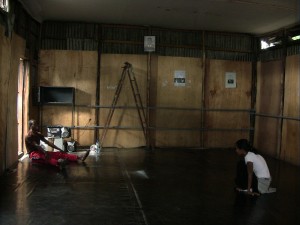 You should create your own dance style, and you should always follow the music, follow the rhythm within.
Camera: Addisu Demissie Kifle.
Traditional dancer Temesgen and contemporary dancer Nuria Mohammed. Together with contemporary dancer, Shiferaw Tariku, my teachers in 4 traditional Ethiopian dances.
Adugna Dance and Theatre Company
Adugna is the only dance company that makes contemporary dance in Ethiopia. To a large extent, I got insight into the conditions under which they run a dance company in Ethiopia. The Adugna members work in diverse ways; as dancers with international choreographers. Also, Adugna creates dance with people with AIDS as well as disabled people. They have had training in classical ballet, contemporary dance and African dance. Their dance studio had a functional dance floor but the audio equipment was very unpredictable. There was electricity on occasions but you never knew when. There was no electricity when it was raining.
My schedule consisted of morning training in contemporary dance / improvisation with Adugna dance company and in the afternoon I had my own traditional private Ethiopian traditional dances training. Adugna asked me to give a workshop in choreography.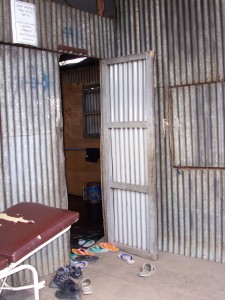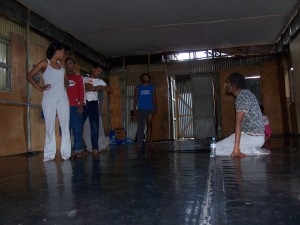 In One hour walk we walk in couples for one hour through the city to create a piece of choreography. The process and research time becomes identical with the rehearsal time. We walk around a shared public space, then we bring that experience back to the studio and show a choreography. Me and my working partner Adissu walked around the Markato Market, where half a million peoples houses had recently been totally removed. During that walk we tossed a mango back and forth between us, to make it softer. We talked about that for others, I was a forengee.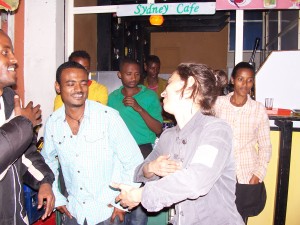 Returnee is an Ethiopian term. A Returnee is a person born in Ethiopia, growing up in the U.S.
or the like and then return to Ethiopia. A Returnee. They start businesses in Addis because they have a belief to improve Ethiopia's economy. I wondered why Ethiopians abroad do not support the dance company to build a new dance studio. The reason is that Africans do not usually gather large collections, since most Africans in the first place not can get out from Africa. Standard in Africa is in a village receives a polio vaccination.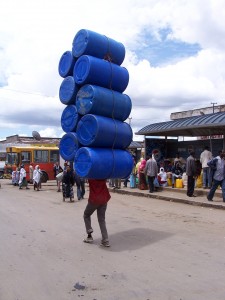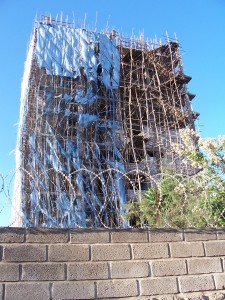 During my stay in Addis Ababa I also participated in a traditional coffee ceremony, preparing the ceremony myself and I also paid visit to an orthodox wedding ceremony of one brother from one of the dancers in Adugna.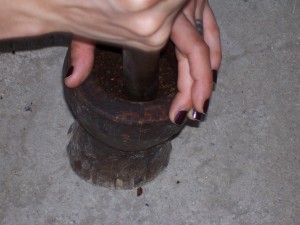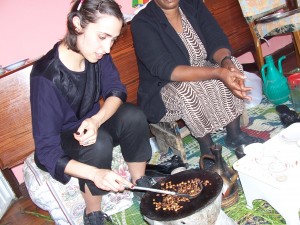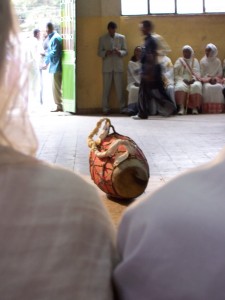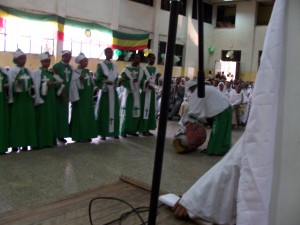 Kindly supported by Swedish Arts Grants Committee