Eine Videointervention von
Melody Panosian, Jakob Argauer, Danny Degner, Jakob Wierzba
27.01.2013, 10.00 Uhr – 12.30 Uhr / Live-Video-Übertragung einer Gedenkveranstaltung vom Mahnmal Abtnaundorf in das Neue Rathaus Leipzig.
Live-Projektion, Leinwand 180×360 / begleitende Publikation, DIN A4, 20 Seiten, Auflage 450.

Jährlich am 27.01. lädt die Stadt Leipzig anlässlich des Gedenktages für die Opfer des
Nationalsozialismus zu einer Gedenkveranstaltung ins Neue Rathaus und zum Mahnmal in
Abtnaundorf ein.
Mit bereitgestellten Shuttle-Bussen fahren die TeilnehmerInnen vom Neuen Rathaus Leipzig zur Gedenkveranstaltung nach Abtnaundorf. Dort findet die eigentliche Gedenkveranstaltung statt, die mit dem Rücktransfer ins Rathaus, einer Schweigeminute, kurzen Redebeiträgen und einem Catering ihren Abschluss findet.
Am 27.01.2013 haben wir die Veranstaltung als Bestandteil des protokollarischen Ablaufs der
Stadt Leipzig in Form einer Videointervention, einer Publikation und eines Redebeitrags begleitet.
Dafür wurde ab 10.00 Uhr eine Live-Video-Übertragung vom Mahnmal auf eine in der Unteren
Wandelhalle des Rathauses installierte Leinwand projiziert. Zeitgleich waren damit im Rathaus die Vorbereitungen der Veranstaltung am Mahnmal, die Ankunft der Gäste, die Gedenkveranstaltung unter Beteiligung von RednerInnen und des Gewandhauskinderchores und die Abreise der TeilnehmerInnen nebst Abbau der installierten Technik zu sehen.
Während des Bustransfers haben wir eine Publikation verteilt, die sich als längerfristige
fotografische Beobachtung sowohl mit dem Ort des Mahnmals als auch mit seinem weiteren
Umfeld auseinandersetzt und das Vorgefundene jenseits von Ritualen des Gedenkens in seiner
alltäglichen Praxis sichtbar macht. Mit der Rückkehr ins Neue Rathaus hatten die TeilnehmerInnen die Möglichkeit vor die Live-Übertragung und damit vor das Bild des eben besuchten und bereits wieder geleerten Ortes zu treten. Vor diesem Bild des Gedenkortes mit allen Spuren der Veranstaltung und bei gerade einsetzendem Schneefall haben wir unsere Arbeit in Form eines Redebeitrags vorstellen können. Um 12.30 Uhr wurde die Live-Projektion abgeschaltet.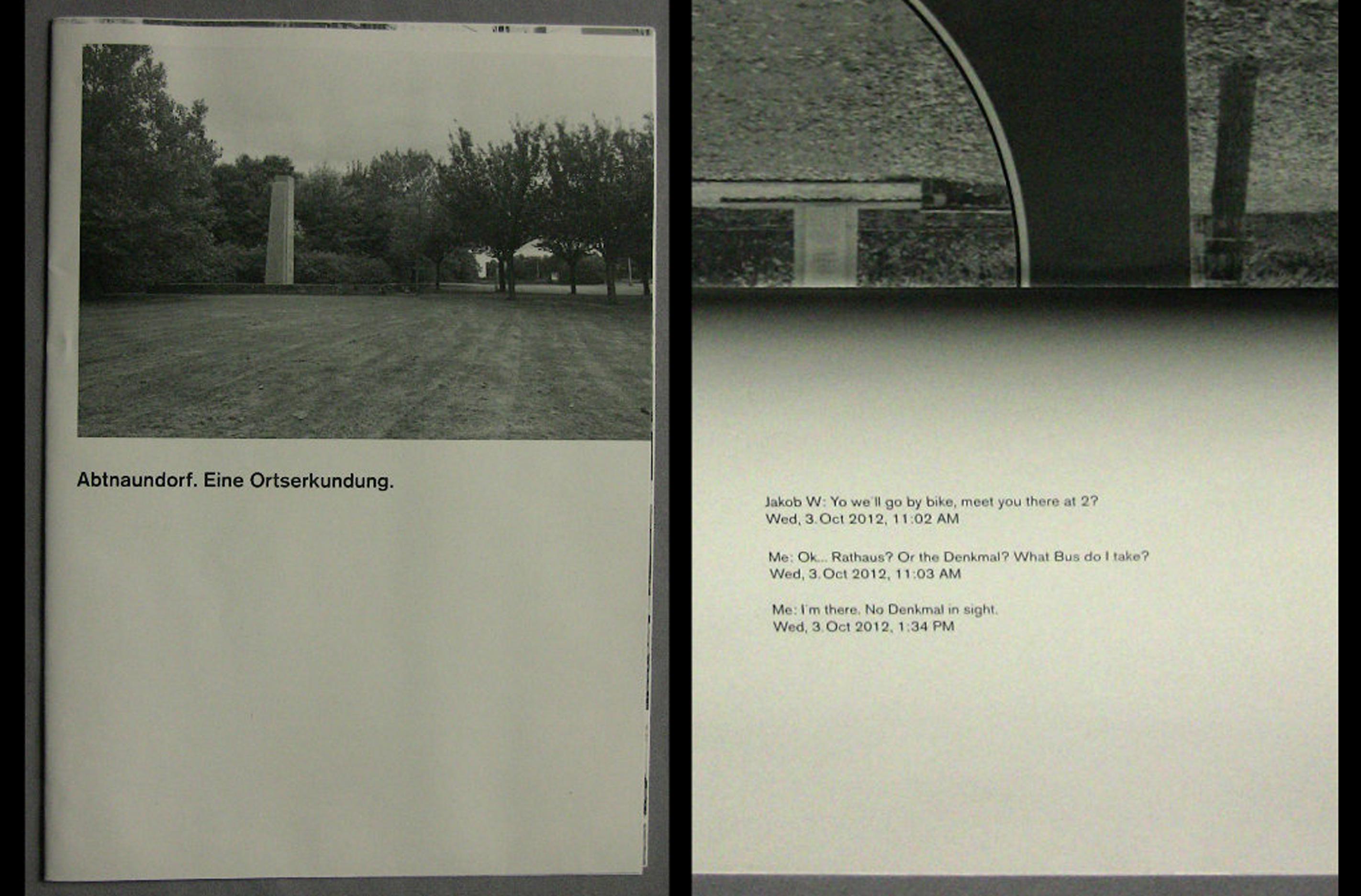 A video intervention by
Melody Panosian, Jacob Argauer, Danny Degner, Jacob Wierzba
27 January 2013 at 10.00 – 12.30 A.M. / Live-video-broadcast from a commemorative event at the memorial Abtnaundorf in the Neues Rathaus Leipzig.
Live-projection, screen 180 × 360 / accompanying publication, DIN A4, 20 pages, 450 editions
Annually on the 27 January the city of Leipzig marks the occasion to the day of remembrance for the victims of national socialism in a commemorative event at the New Town Hall and the memorial in Abtnaundorf.
The participants are transferred from New Town Hall Leipzig to the commemorative event in Abtnaundorf thanks to the chartered buses. There, the actual commemoration ceremony is held, followed by the transfer back to Neues Rathaus, one minute's silence, short speeches and a catering.
On 27 January 2013 we contributed to the City of Leipzig´s course of protocol with our event, in form of a video intervention, a publication and a speech.
Prior to that, at 10.00 A.M a live video-broadcast was transmitted from the memorial on a projection screen installed in the New Town Hall´s lobby. Hence, the preparations for the event at the memorial, the arrival of the guests, the commemorative event with contributions from the speakers and the Gewandhaus Children's Choir as well as the departure of the participants along with the removal of the installed technology were to be seen synchronously in the New Town Hall.
During bus transfers, we distributed a publication, featuring a long-term photographic observation of both the memorial´s location as well as its setting and what the findings uncovers through everyday practice, in contrast to cyclic rituals of remembrance.
With the return to the New Town Hall in front of the live-broadcast and in front of the image visited just a moment ago, the participants had the opportunity to enter the previous place, now emptied. Before that image of the memorial site with all traces from the event and the recent onset of snowfall we presented our work in the form of a speech contribution.
At 12.30 A.M the live-projection was switched off.